The two main health projects are at St. Bakhita Health Clinic and Namboboto Health Centre.
These provide much needed healthcare for the local people.  The aim has always been that these clinics should be sustainable; that they should not need a constant supply of funds to pay the staff and other running costs.
Some people are able to pay a small amount for their health care, others contribute something as part payment – perhaps a few eggs or vegetables.  No-one is turned away.  The fees from those who can afford to pay mean that the very poorest widows and orphans who have nothing can receive health care.
The plan has always been that, once established, the clinics should be able to pay staff wages from their income and still have the resources to help those in desperate need.  This has been achieved.  Whilst there will always be a need to improve and update the facilities, the clinics are self-sustaining and they can look to the future with confidence.  All this has been made possible by the careful stewardship of generous donations and by the committed, skilful staff at the clinics.  The clinics transform the whole area.  Local people take pride in the fact that they have access to such high quality health care where no-one is turned away because they are poor.
W.O.R.K. is also involved in outreach work to people who do not have the money or transport to get to a clinic.  This has included removing jiggers (tiny worms that eat into flesh) from children's feet and hands, testing children for HIV and taking a mobile clinic to remote villages to provide care for pregnant women, babies and others in the villages.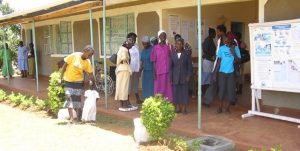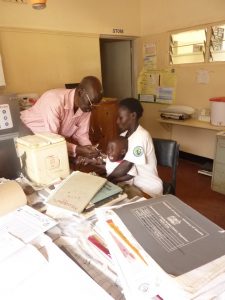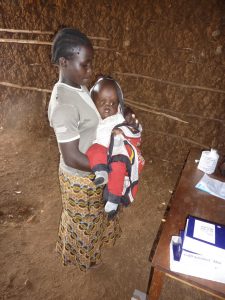 It is difficult to employ staff in very rural areas unless there is accommodation available so W.O.R.K. has built staff houses at the health clinics.  This ensures that good staff are always on hand.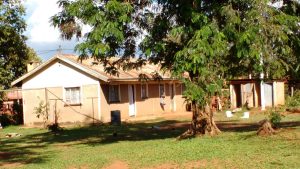 As the clinics have grown more wards have been built and equipped.   At St. Bakhita there is now a theatre for minor surgery and 40 beds for in-patients as well as the out-patient facilities .
A constant supply of electricity to clinics cannot be taken for granted upon but solar lighting provided by W.O.R.K.means that there is a reliable source of electricity and midwives can deliver babies in the night.